"Betou" – Old limestone farmhouse, mid-way between Bordeaux and Toulouse
⇒ To be able to bid for a stay in this holiday home you must be at the Primrose Hill Getaway Gala Auction on Tuesday 25 September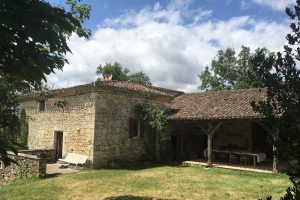 THE PLACE The house is part of an old, secluded, family-owned hamlet, looking across a south-facing valley. It contains three double bedrooms (two en-suite, one with an extra single bed) and one single room. Another low-beamed, attic room is perfect for children: in it are a small double bed, a single bed and a double mattress on the floor. Two cots are available, as are high chairs. An outdoor table for about twelve shelters under an auvent (barn overhang). Nearby is a large L-shaped kitchen/dining/sitting room. L Log fires burn in a huge fireplace in winter; also central heating. (Another house in the hamlet is let, but it is hidden and you wouldn't know it is there.)
EQUIPMENT Masses of pots and pans are part of the kitchen. A washing machine, ironing boards and hair dryers. Beyond a threshing field and behind a hedge is a 10x5m swimming pool, changing cabin and shower. Hammocks swing under a huge old walnut tree. A 'play barn' with table tennis and toys is there for rainy days.
WHAT YOU CAN DO Visit medieval, fortified towns (bastides). Go for walks along woodland paths, see deer and hear wild boar. Maps are provided. Shop at a Carrefour supermarket 15 minutes drive away and at local street markets. Have coffee and eat out at restaurants in nearby villages or at Agen 20km away. Read; there are lots of books. Go to vide-greniers (attic emptying sales) if you like collecting bricabrac. Visit caves with pre-historic paintings at Pech-Merle about 90 minutes drive away.
HOW TO GET THERE Fly Stansted, London City or Southampton to Bergerac, then hire a car for a 90 minute drive. Fly London to Bordeaux or Toulouse and, again, hire a car and drive up to two hours. Take the overnight car ferry from Portsmouth to St Malo, then drive 7 hours. Take the Channel tunnel or ferry to Calais then drive about 12 hours. Go Eurostar to Agen via Paris and hire a car. (Europcar are by the station.)
AVAILABILITY Negotiable, but any time of year
The house has been owned by the family since 1973, and is normally only lent to friends and friends of friends. It is old and quirky, full of odd antique objects and charming but not at all 'posh'.
Getaway Gala Auction
---
Last Updated on 17th September 2018 by Jason