La Casa Nera in Tenuta Le Querce
⇒ To be able to bid for a stay in this holiday home you must be at the Primrose Hill Getaway Gala Auction on Tuesday 25 September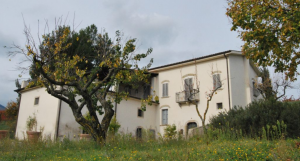 La Casa Nera is a farmhouse in the vineyards of Tenuta Le Querce ('Estate of the Oaks'), renowned for its superior quality wine, Aglianico del Vulture.
Basilicata was ranked number 3 by the New York Times in its list of 52 places to go in 2018, described as 'Italy's best kept secret'. The capital, Matera, is a UNESCO world heritage site, and is the European City of Culture this year. There are wonderful beaches and, of course, lots of Roman remains to visit. Wedged between mountains and the sea, the Basilicata region boasts an extensive and varied food tradition.
The farmhouse sleeps 2 to 4, it is architect designed and newly renovated.
Enjoy three nights in this fabulous place during summer 2019. You will have breakfast included and a wine tasting of Angelina wines.
Reach it in 90 minutes from either Naples or Bari airport.
Getaway Gala Auction
---
Last Updated on 17th September 2018 by Jason