⇒ To be able to bid for a stay in this holiday home you must be at the Primrose Hill Getaway Gala Auction on Tuesday 25 September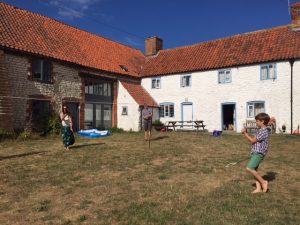 This attractive holiday cottage is in the village of Ringstead, about 15 miles north of King's Lynn and within easy striking distance of many beaches along the Wash and the North Norfolk Coast. Closest is the small seaside town of Hunstanton but along the north coast run large areas of dunes and salt marsh bordering a string of attractive small villages.
The area is a popular holiday destination with a variety of attractions from Hunstanton's traditional seaside activities to the stately homes of Holkham Hall and park, Houghton Hall with magnificent gardens and art works and, of course Sandringham. The area is also a magnet for bird watchers with many RSPB centres.
Ringstead village itself has a very fine village shop, (open 7 days,) a popular pub, 'The Gin Trap Inn' and is on the Peddars Way, a long distance walking path.
The house is made up of 2 old, (early 19th Century,) cottages, now joined together and it adjoins another property, similarly combined from 2 older cottages. It is simply but comfortably furnished, but not 'posh' in the sense of being highly modernised. The cottages are well set back from the main road through the village and share the large fenced garden in front and a small car parking area.
The cottage has 4 small interlinked bedrooms at 1st-floor level with a small spiral staircase at each end. There are 2 double bedrooms, (one at each end,) and 2 twin rooms in between which can sleep adults but are really better for children. There is also a travel cot for a baby or small child,
Downstairs are a good sized kitchen/dining room and a living room with a TV, DVD player and a dual fuel stove for use in cold weather. WIFI, but broadband limited.
There are some books and lots of local maps, leaflets/guides for adults and a selection of toys/books/puzzles for children.
The drive from London takes around 3 hours, Kings Lynn is the nearest railway station.
This cosy cottage is available for a week, time by negotiation with the owner, school holidays possible.
---
Last Updated on 15th September 2018 by Jason