Hello,
Some of you may already know me from the library, but for all those that don't, I'm Marijke Good. I have volunteered in the library for 10 years, and several years ago became Library Chair.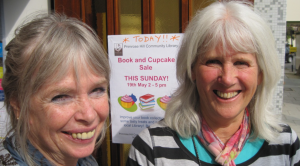 I am originally Dutch but met my late husband, who was English, in Brussels in the 1970s. I have lived in Primrose Hill on and off since 1976, although his work in advertising took us to Mexico and to Portugal. We settled down in Primrose Hill permanently in 1991 and I wouldn't want to live anywhere else.
After my two boys got older, I started working at the BBC, in Radio Entertainment. It was only after I retired, in 2009, that I got to know more and more people in the community. This really took off after my husband volunteered me for the library. I offered to give two afternoons a month, but soon got roped in to do more… and more… and more.
It was through the Primrose Hill Community Library I got to know the Community Association and was impressed with the work they did. Apart from all the fun things they do, like the talks, the walks, the discos etc, Neighbourhood Nosh must certainly be one of the most amazing initiatives that came out of the pandemic.
With both Maureen and Amanda as my predecessors, I know I have a hard act to follow, but I will do my best.
Marijke Good
Chair of Primrose Hill Community Association
---
Last Updated on 25th April 2022 by Jason