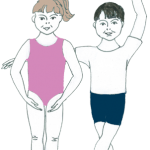 Ballet lessons for children under 5 with the Chalk Farm School of Dance.
Age: 2 yrs 9months – 5yrs
These classes are general ballet-based dancing lessons which serve as a basis for other dance classes. The children will receive a grounding in basic dance steps such as skipping and gallops, working with a partner as well as creative movement.
Dance wear
Comfortable clothes in which to move e.g. leggings and t-shirt/ favourite dressing up dress are all acceptable or regulation ballet uniform  + socks, bare feet or ballet shoes
For more information please call Catherine on 0208 348 0262
---
Last Updated on 6th April 2022 by Dominique