Monticello, Corsica
House with pool In 1 Acre with sea and mountain views
Sleeps 8 In 2 Doubles And 2 Twin Beds
⇒ To be able to bid for a stay in this holiday home come to the Primrose Hill Getaway Gala Auction on Tuesday 25 September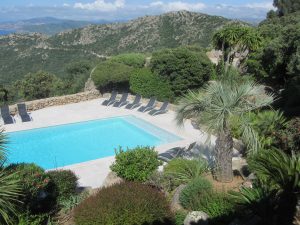 AVAILABLE BEFORE 23rd JUNE AND FROM 8th SEPTEMBER 2019 from Sunday to Sunday (only day for UK charter flights)
A Pinarella is a massively-beamed stone house built with traditional materials but modern comforts. It has a large sitting/dining room, four bedrooms (2 double, 2 twin), 2 bathrooms, 2 separate WCs, a well-equipped kitchen and laundry/storage room with a second large fridge.
There is a large covered terrace at ground floor level overlooking the pool and sea, with an outdoor dining area as well as space to relax. At first floor level, two covered loggia look over a panoramic seascape to the north and mountains and villages to the south. There are three further terraces (one with wisteria covered pergola), providing ample opportunities for members of larger parties to find space to relax alone, either in sun or shade.
The sunny pool is 6m x 12 m and 1m-2m deep so is ideal for serious swimmers. However, there is also a child-friendly area of shallow water where toddlers can paddle above a shelf housing the pool cover. The water is warmed by a heater that cuts in when it drops below a certain temperature. The surrounding garden has palms and other Mediterranean planting and wonderful views over the sea and Cap Corse. Beyond the pool is a wilder walled garden of over one acre with oak, pine, citrus, olives, aromatic shrubs and sculptural boulders. High gates give peace of mind to guests with small children, although the house is on a quiet unmade road where the most frequent passers-by are horse riders from the local stables.
A Pinarella is on a network of ancient footpaths, giving easy access to excellent walks. Monticello (3 minutes by car or a 10-minute walk via an old pathway) is a small village with narrow alleyways, old stone houses, a village shop and a small hotel/restaurant which has been run by the same family for several generations. Tennis and horse riding are within walking distance.
Ile Rousse and the sea are 4 km away. Ile Rousse has a delightful old town area with small shops, a porticoed covered market, long sandy beach and a large central square with palm trees, boules and outdoor cafes and restaurants shaded by plane trees. There are two supermarkets. Excellent beaches are to be found in all directions, many with child-friendly shallow waters.
Trips to the string of Balagne villages in the foothills of Corsica's high northern mountains are recommended, or you can travel into the interior to bathe in mountain streams or walk and picnic on shady pine covered slopes. Returning to the coast, visit Calvi with its ancient citadel and eat ice cream in one of the many cafes lining the smart yachting harbour. The town is where Nelson lost his eye in a battle against the French and it also claims to be the birthplace of Christopher Columbus – locals say he was only described as Genoese because the Genoa city state then owned that part of Corsica, but the modern Genoese disagree! In the opposite direction, take a trip across the barren Desert des Agriates to St. Florent and Cap Corse, where there are many small villages, beaches and a circuitous coastal road with stunning views.
---
Last Updated on 24th August 2018 by Jason