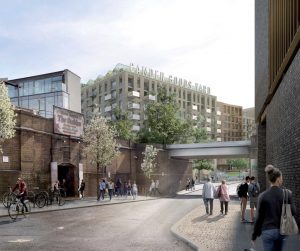 Join us at the Primrose Hill Community Library, Sharpleshall Street, Primrose Hill, London NW1 8YN
Wednesday 2nd August from 7.15pm to 8.30pm.
The applications drawings are in Primrose Hill Community Library now for you to see.
Also see Camden.gov.uk pages here
You have until 13th August to have your say on the redevelopment of the Morrisons site in Chalk Farm (planning Application No 2017/3847/P)
The proposals will have a big impact on our area. The development covers the whole area of the superstore, car park, bus stops, and the petrol station on the Chalk Farm Road.
Big questions include how the housing would work for local families, how affordable the promised affordable housing would be. What effects will it have on traffic and air pollution?
To help us local people to comment on the proposals the Primrose Hill Conservation Area Advisory Committee is organizing an information session for local residents.
We will explain the scheme as we understand it. Please come and discuss the issues and help us all to tell the Council what we think!
Further information from Camden Good Yards Working Group:
I am contacting you to make you aware of a huge proposed development by Morrisons supermarket in Chalk Farm. A planning application has been lodged with Camden Council (2017/3847/P – a hard copy is available at Primrose Hill library).
The proposal is for over 700 homes along with thousands of square feet of office space plus a re-built supermarket. Whilst this will obviously have a massive impact on the immediate area it will also have serious repercussions for Primrose Hill.
For instance, part of the submitted design includes a 14 storey high tower block sited at the highest point of the development alongside the railway tracks that border Primrose Hill. This will clearly be visible from many parts of Primrose Hill including the conservation area, such as Edis street.
For your information, I am part Camden Goods Yard Working Group (CGYWG) – a group that includes neighbouring tenants associations, local business and land owners, heritage experts and other interested parties such as the Roundhouse. We have spent the last few months in conversation with the developers, Barratt. Despite all our efforts I am sorry to report that we have had almost no impact on the submitted design.
Sadly modern planning procedures mean that many (Primrose Hill) residents will not have been made aware of this application at all.
I should point out that currently comments are being accepted by Camden Council only until the 13th August, although CGYWG are hopeful this will be extended.
Steve Stokes
Camden Good Yards Working Group
Gilbeys Yard Tenants Association
07810 481 747
---
Last Updated on 31st July 2017 by Jason