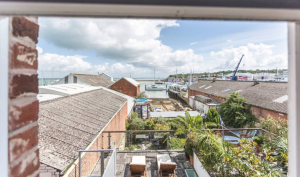 ⇒ To be able to bid for a stay in this holiday home you must be at the Primrose Hill Getaway Gala Auction on Tuesday 25 September
Isle of Wight, Cowes. A beautiful Georgian townhouse situated in Central Cowes, 5 minutes walk from the Red Jet, overlooking the sea. It is interior designed with four double bedrooms, all ensuite. There is a forty foot living area and a small courtyard garden with a barbecue and dining furniture. Perfect for summer suppers as you watch the beautiful sunsets.
There is a wonderful roof terrace overlooking the sea as well.
The vibrant seaport town of Cowes is situated in the north of the Isle of Wight, on the west bank of the estuary of the River Medina. The home of international yacht racing, it is perhaps most famous for Cowes Week when hordes of visitors descend on the town for the famous regatta, though it also hosts a calendar of maritime events throughout the rest of the year. While the town is highly focused on sailing, it is also a great place to visit for its great selection of boutique shops, cafes and restaurants to keep those without sea legs happy.
For beach lovers, there is a long seafront promenade which leads to the pretty village of Gunard where you can just sit back and watch the boats bobbing about on the ocean. For those who prefer a little history, just across the river is the town of East Cowes, home to Osborne House, the summer residence of Queen Victoria and Prince Albert. It is linked from Cowes by the Cowes Floating Bridge, although both towns are easily accessible by road from the rest of the island. Under an hour's drive from all of the popular seaside resorts as well as the famous Needles Landmark Attraction and Tennyson Down. For more photos see AirBnB here
[maxbutton id="5″ ]
---
Last Updated on 3rd September 2018 by Jason