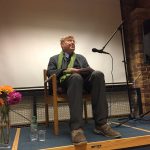 The AGM took place on 4th October with Chair Maureen Betts. Two trustees stood down, Marcela Cuneo, who is doing a course so has limited time, and our long standing trustee, Colin St Johnston, who was Treasurer for around 15 years.  We hope he will still be available to us for advice and support outside of the committee structure.
The Community Centre and Library Treasurers, Dorothy Toh and Lucy Cottrell, discussed the accounts, while the Centre Chair, Maureen Betts, and Library Chair, Marijke Good, informed the gathering what has been happening at the two venues and what is to come.
Following all the formalities we were lucky enough to have our local gem, Alan Bennett, reading passages from his diaries
Primrose Hill Community Association (PHCA) – Chair's Report for 2017/2018
Another busy year at the PHCA for both staff and volunteers, and the good news is that after many years of negotiating with Camden Council (CC) we have finally agreed and signed a "buy out" Lease which will make the Centre safe for at least 25 years. That is of course if we can raise £250,000 to buy out this 25 year lease. We have until 31 December 2018 to raise the money and a fundraising appeal is underway, and we need all the help we can get from you, your friends, colleagues, businesses and Trusts to raise this money. If you want to help or have contacts/ideas as to who we should approach please ring the office on 020 7586 8327 or pick up our fundraising leaflet.
The benefits of signing a "buy out" lease means that we don't have to pay a yearly rent to CC which initially would have been £22,000 a year with a rent increase every few years. We estimate we will be saving £310,000 over the first 10 years ie 5 years at £22,000 = £110,000 with estimated rent increase to £40,000 per year over next 5 years = £200,000. We could not have steered our way through this minefield lease without the expertise and generosity of Francis Katz of Chalcots a local property law firm who helped us all the way. A big thank you to him.
Last year I presented to you the PHCA Business Plan and I am pleased to report that this has been taken forward with a Centre refurbishments undertaken, an on-going supporter drive continues to draw people to the Centre and with the expert help of Trustee Jason Pittock our Website, Facebook and Twitter page has been revamped .
The first question on the business plan is "What is a Community Association" and our answer is "We are here to enhance the lives of residents and those who work within the area". And how do we do this?
We provide a busy hub with people coming and going to attend events, seek advice, help etc. The Centre is open from 8.30am to 10pm and is used 7 days a week. We also provide photocopying and fax facilities, wheel chair loan and organise our own regular events at the centre which include Drop In (under 4s), Music & Rhyme time, Yoga for seniors, Bridge (ACOL) sessions, Life Drawing classes, Keep Fit for over 60s and Open House every Wed afternoon. Our Sunday Bar on the ground floor 12-2pm is also very popular, and we have employed Carole Sandman as our cook who provides healthy two course lunches twice a week Mon and Wed at the Oldfield complex for residents and locals at just £5.00.
We administer the booking out of our two halls to a variety of clients including Ready Steady Go Nursery, Circus Glory/Trapeze, Primrose Hill Choir, Perform, Narcotics Anonymous, Transition Primrose Hill, Monkey Music, Camden Cycling Campaign, Hatha Yoga, Catherine's Ballet, Pitta Patta, Pregnancy Yoga, and Chilled Strings.
We keep all residents informed of local issues and events through our free, high quality monthly magazine "On The Hill", delivered to every home in the area and available in four distribution boxes in prime sites. The Editor Maggie Chambers is doing a grand job and our designers and contributors help make this magazine look so professional and interesting. The office also produces a bi-monthly newsletter distributed to PHCA members.
Our regular events were once again a lot of fun as well as raising money for PHCA. The year started with A Vintage Disco in February, our Annual Jumble Sale in March, Top of the Hill Quiz in May and our Summer Fair in June. On Tue 16 October Dick Bird is holding another "Local Lives Event" when he will interview Richard Creasey, adventurer, film-maker, writer and resident of Regent's Park Road and plays his favourite music.
2.
Unfortunately very recently we had the sad death of Claire Daglish and Keith Bird both of whom where so instrumental in getting the Community Centre set up, running the Fireworks event on Primrose Hill and the BBQ and Bar at the Summer Fair – plus much more. Claire also ran the Hopkinson's Bar on a Sunday for over 20 years. Both are sadly missed.
Special one off events included us hosting a Hustings in April for the local May elections with seven candidates being quizzed by some of the 50 locals who attended. Trustee Peter Savic recently organised an Entrepreneurs event with five young people on the panel telling the audience about their experiences on setting up new businesses and just last week a group headed by Trustees Doro Marden and Gabriela De La Concha organised the fantastic Get Away Gala which raised nearly £25,000 for the PHCA Lease appeal.
Our newly formed Events Committee led by Tim Kirkpatrick is planning to hold regular events at the Centre so look out for more information on these. Their first event is on Tues 23 October when an "evening of music and song" performed by soprano Kate Royal and Joseph Middleton is to be held at St Mary the Virgin, Elsworthy Road. On 31 October there will be a Halloween party for under 12s at the centre and on 30 November another popular Retro Disco event for adults will take place.
Income and Expenditure for the year 2017/2018 was: Income £193,308, Expenditure £168,070 which left a small profit of £24,438 for 2017/18 compared to £16,832 last year.
A big thank you to Mick Hudspeth, Centre Manager, Julie Stapleton, Assistant Centre Manager, Xi Hu, Bookkeeper, all PHCA Trustees. Two PHCA Trustees are standing down from the committee this year. Colin St Johnston who was our Treasurer for over 10 years and Marcela Cuneo. Both have done tremendous work over the years and PHCA is very appreciative of their help and I know they will continue to give us support. Thanks also to key holders, cleaner and our wonderful volunteers. All have worked very hard over the year. Thanks also go to the Mary Ward Centre for providing tutors for some of our regular events, the U3A in London for once again sponsoring our Open House weekly event and individuals and local businesses for their continued support.
Maureen Betts, Chair, Primrose Hill Community Association
---
Last Updated on 5th November 2018 by Jason