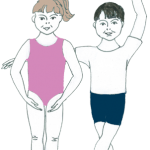 Nursery & Primary Ballet classes.
Age: 3-7 yrs
Dance wear
Comfortable clothes in which to move e.g. leggings and t-shirt/ favourite dressing up dress are all acceptable or regulation ballet uniform  + socks, bare feet or ballet shoes
For more information please call Catherine on 0208 348 0262, or contact on [email protected], more information at www.chalkfarmschoolofdance.co.uk.
---
Last Updated on 2nd August 2023 by Dominique